What is website maintenance?
Website maintenance is the process of keeping a website up-to-date and running smoothly as well as performing optimally. Website maintenance includes tasks like ensuring all the links on your site are working, regularly updating content, and fixing any broken links. It also involves more general housekeeping tasks like backing up your site regularly and monitoring your site's performance.
Types of website maintenance
After you launch a website, it's important to regularly perform web maintenance to prevent any technical issues, improve the user experience, and ensure your site continues to rank high in search engine results pages (SERPs). Website maintenance can be daunting, but keeping your site running smoothly is essential. There are a few different types of website maintenance that you should be aware of:
1. Security updates
Security patches are released by web development companies to address vulnerabilities in their software. Patches are essential in keeping your site safe from hackers, so installing them as soon as they're available is important.
2. Plugin and theme updates
Plugins and themes help to extend the functionality of your website. But like any software, they need to be kept up-to-date to ensure compatibility with the latest web browsers and security patches.
3. Content updates
Your website's content should be kept up-to-date to ensure that it is relevant and accurate. This includes adding new blog posts, updating product descriptions, and removing outdated content. Outdated content can make your site look unprofessional and can turn away potential customers.
4. Backup and disaster recovery
Having a recent backup of your website is important in case something goes wrong. Disaster recovery planning helps ensure that you can quickly get your website back up and running in the event of a major problem. A backup helps to prevent data loss and ensures that you can restore your site if it's ever hacked or corrupted.
5. Performance monitoring and optimization
Monitoring your website's performance can help you identify potential problems and take steps to keep your site running smoothly. Optimising your website's performance can help improve your site's speed and responsiveness. It entails the tasks of improving web page loading times, optimising image sizes, and minifying code.
6. Security scanning
Security scanning is important in web maintenance to ensure that the site is secure from any potential threats. Regularly scanning the website can identify and fix security vulnerabilities before they cause any damage. This helps to protect both the website and its users from potential harm. Scanning the website also helps to improve the user experience. By identifying and fixing potential security vulnerabilities, users can be assured that their personal information is safe when using the website.
7. User management
If your website has users, you'll need to manage their accounts. This includes creating and deleting user accounts, resetting passwords, and managing permissions. User management also includes cleaning out the users' list by removing bots and spam accounts.
8. Accessibility testing
Testing your website's accessibility is important to ensure that everyone can use your site. This includes people with disabilities, people using mobile devices, and people with slow internet connections.
9. Uptime monitoring
Uptime monitoring helps ensure that your website is available when people try to access it. The goal is to keep your website's uptime as close to 100% as possible. Once your site goes down, you'll want to know about it so you can take steps to get it back up and running.
10. SEO monitoring
Monitoring your website's SEO is important to ensure that it is visible in search engines. This includes tracking your site's ranking, backlinks, and website traffic. SEO monitoring can help you identify potential problems and take steps to fix them. It can also help you track your progress over time and measure your success.
11. Support and maintenance plans
The best way to ensure that your website is always up-to-date is to sign up for a support and maintenance plan. This type of plan usually includes all of the above services, as well as other important services such as web hosting, SSL certification, and email support.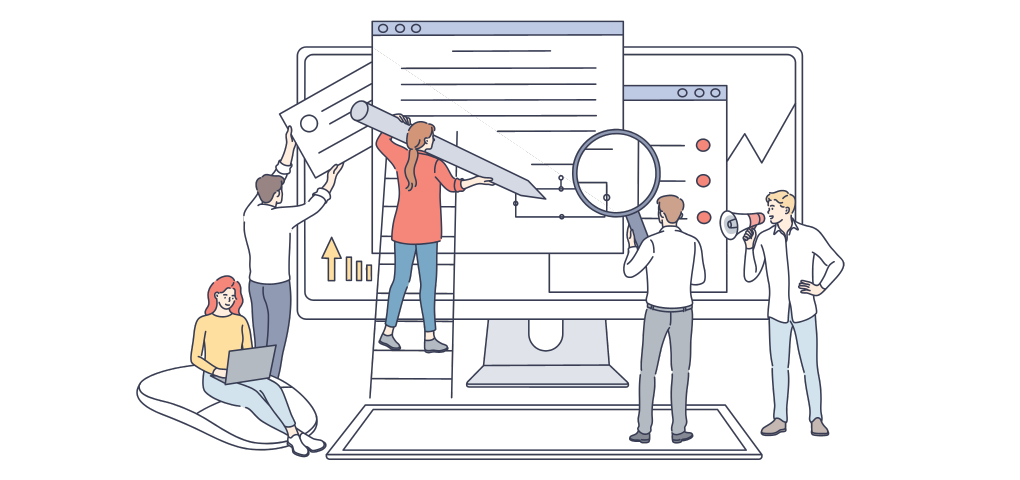 News Portal Development

Political/Social  Website

Personal Portfolio

Photography Website

Hospital Website

School/ College/ Tuition/ Organization Website

Beauty & Health Care Website

Astrology Website

E-commerce Website

Events Website

Any Business Website

Any Custom Website

Digital Marketing
GST Softwares
Digital Marketing
We offer a range of services that includes:
Public Relations(PR):-
We do Political PR, Celebrity PR, Businessman PR as well as Maintains All public relations on social media.
Social Media Marketing (SMM):-
Facebook Marketing , Twitter Marketing, Instagram Marketing, LinkedIn Marketing, WhatsApp Marketing, Telegram, YouTube, Website etc.
Search Engine Marketing (SEM):
Pay per click (PPC) campaigns on search engines.
Search Engine Optimization (SEO):
Organic reach by on-site and off-site optimization.
Social Media Optimization (SMO): 
is a technique to make the social media content visible to more users.
Content Marketing:
Blogs and articles for inbound traffic generation.
Email & SMS Marketing:
Newsletter subscriptions and bulk SMS gateways.
Translation Works:
We provide Marathi, Hindi & English Translation tasks/projects with 100% accuracy with the help of our expertise team.
GST Softwares
Get professional business email today from TechKnowIT. Customers are more likely to choose a business with a professional email address.

TechKnowIT helps your business stay safe with industry-leading spam and virus filters, 256-bit encryption, plus best-in-class security.
eg. info@yourdomain.com
To develope any website you need to register domain name, we will help you to buy domain name if you have any difficulty to do that. On Internet there are excellent, cheap domain names for sale with different discounts. proper domain name is most important you should know.
eg. google.com, .in, .org, .co.in
TechKnowIT provides low cost web hosting packages including high quality web space and web services for your website, we provide quick and affordable domain name registration, domain renewal services, domain redirection services to expand your business with nominal cost.